Lake Erie Championship Layout Shoot
Date(s) and Time(s):
Saturday, September 16th, 2023 – 10am to 4pm

Registration at 9am
This simulates duck hunting out of a layout boat. It's designed for you to work on your skills as a layout shooter. You will get 25 clay birds thrown at you, and you will be given a box of shells.
Seniors (Ages 16 and older)
$20

Box of shells and a hat
Juniors (15 years and under)
$10

Box of shells and a hat
***Because of Youth Duck Season, Shooters Can Sign Up At Anytime, During The Event.***
***12 and 20 gauge steel shot***
***Limit to the first 100 shooters***
GRAND PRIZE!
Waterfowl Works is donating an NXT GEN UFO Layout Boat (A $1650 boat!!) to the winner of the Lake Erie Championship Layout Shoot!!
THANK YOU WATERFOWL WORKS for your generous donation !!
Be sure to check out this website at https://layouthunting.com/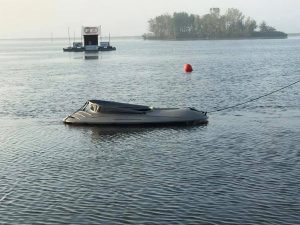 Layout Shoot Documents & Information:
The form below can be printed and brought to the event or signed at the event. Should you have questions, you can contact:
Jeff Hedke
Rivereventspmwf@gmail.com
P.O. Box 1
Rockwood, MI 48173
Rules:
Each shooter will receive 25 clay birds.
Only one shot can be taken per clay bird.
Only steel shot may be used.
Must use shells provided.
All Michigan Hunting rules apply.
Your shotgun must be plugged as regulated by Michigan hunting rules.
Safety Safety Safety.