Pointe Mouillee Waterfowl Festival Auction Items
Sunday, September 22nd at 1pm in the Art Tent
BEEKE'S BLACKJACK GUIDE SERVICE, LLC.
Layout boat diver, Layout field goose, Spring & Fall turkey hunts
BeekesBlackJackGuideService.com
Sean D. Beeke
Hardcore Brands Prostaffer
269-209-9207
Guided hunt for two on November 10, 2018.  Also one night stay.  This is a layout/tender diver hunt.

 FISH & FOWL ADVENTURES
Charters, Lodging, Guide services
www.fishandfowl.net
419-707-1065
Guided fishing charter for walleye on Lake Erie in Ohio. 7 hrs dock to dock or limit of 1 – 6 people.
Good for two years from date of purchase.

 BEAR CREEK HUNT CLUB
www.bearcreekhuntclub.com
734-429-7202
Clayton, MI
2 man guide pheasant hunt.

 MARK DITZEL TAXIDERMY
Over 35yrs of experience
Hanover, MI
www.taxdermybynarkditzel.com
ONE WATERFOWL MOUNT.
 WOOD SPIRIT CARVINGS
Donald Nichols
COTTON WOOD BARK WHIMSICAL

Duck Decoy by Ed Pietrangelo
Carved by ED PIETRANGELO TRENTON, MI

Eagle Tour at DTE Energy Monroe
Donated by DTE Energy – Monroe Power Plant
No expiration date
Contact Jeff Hensley
(734) 384-2218
Private Eagle Tour for Four at Monroe Power Plant.
Eagles Tour Certificate for Auction Item

BASF
November 2 & 3, 2018
Contact Pat Samfilippo
734-324-6245
Fighting Island, 2 Person Hunt Certificate.
Hunt Certificate Pointw Mouille 2018

MOSSY OAK PRO-STAFFER, ZINK CALLS/AVIAN X, Z-UNIT MEMBER JOE ROBINSON
Good for 2018-19
Call 734-915-7942 for more information
3-person fully-guided goose hunt or 2-person fully-guided duck hunt.
Breakfast or lunch is included.

DICK WHITWAM
Framed Duck Print

Mighty Sharp Cuts
Custom-made knife.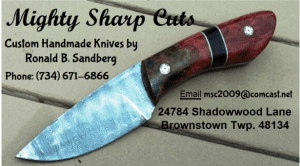 Fishing Pole Gear Bag (Poles and Gear Not Included)
Donated by Ed Sauder
Wood Carving
Donated by Ed Sowder. Rockwood Mich. Trenton Woodcarvers.